Parker RF Series Pneumatic Couplings | General Purpose - Push-to-Connect
Parker RF Series couplings are an aerodynamic valve design with a wide range of port options available.

Flow area of the RF Series nipple is up to 2 1/2 times larger than industrial interchange nipples. Flow rates on 1/4" are greater than many 3/8" body size couplers. Flow rates on 3/8" are greater than 1/2" body size couplers.

RF Series coupler sleeves are nickel-plated steel and coupler bodies are solid brass construction for excellent corrosion resistance. Standard RF nipples are manufactured from solid steel bar stock, which are case hardened and Chromium-6 Free plated.

Rf Series interchanges with a common high-flow European interface.

Standard seals are nitrile. Optional materials are available - contact us with questions.

RF Series QC Dimensions & Specifications:

---

Choose another GP - Push-To-Connect QC
Choose another Pneumatic QC
Go back to Product Overview
Sleeve type couplings, such as Parker RF Series, are widely used to connect air lines. Parker RF Series Couplings can also be used with low pressure fluids.

RF Series has been designed to increase the flow-through, and reduce the pressure-drop over the coupling. This, along with a specially designed coupler valve, allow tremendous flow through a coupling with an envelope size of current couplings.

The benefits of the RF Series couplings to the end user are increased tool efficiency, and decreased air costs.

Common applications: compressed air, water, grease, paint, limited vacuum and limited gases.


Parker RF Series Couplings Specifications & Performance
Body Size (in.)
1/4
3/8
Rated Pressure (psi)
300
300
Temperature Range (std seals)
-40° to +250°F
-40° to +250°F
Locking Device
4 balls
8 balls
Vacuum Data (inches Hg)

Disconnected (coupler only)

Connected

Not Recommended


Not Recommended

Not Recommended


Not Recommended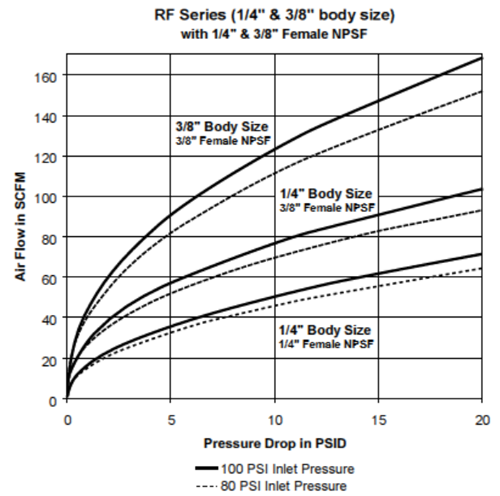 RF Series Couplings Features
Aerodynamic valve design
Up to 2.5 larger flow area than industrial interchange nipples
1/4" RF coupling flow rate greater than many 3/8" couplers
3/8" RF coupling flow rate greater than many 1/2" couplers
RF coupler sleeves are nickel plated and coupler bodies are solid brass - excellent rust protection
Standard RF nipples are solid steel bar stock, case hardened and Chromium-6 Free plated
Ball locking mechanism allows swiveling action while connected - reduces hose twist
Push-to-connect for one-hand connection
Sleeve guard protects against accidental disconnect
Orders & Quotes
When ordering quick couplers, consider the following:
Functional requirements of the coupling
Maximum working pressure of the application
Coupler seal & body material compatibility with the system's fluid
Is the application static or dynamic?
Size of coupler & hose
Maximum allowable pressure drop
Requirement to connect & disconnect under pressure
Media temperature
Ambient temperature
End configuration requirements
Need for industrial interchange QC
Effects of air inclusion & fluid loss