Parker Twist-Lock Series Pneumatic Couplings | General Purpose - Push-to-Connect
Parker Twist-Lock series has a variety of port configurations that are available to meet specific needs.

Twist-Lock series has zinc bodies with Chromium-6 Free plated steel sleeves and nipples. It is designed to protect against accidental uncoupling.

Common applications: compressed air, water, grease, paint, limited vacuum and limited gases.


Parker Twist-Lock Series Couplings Specifications & Performance
Body Size (in.)
1/4
1/2
Rated Pressure (PSI)
300
300
Temperature Range (Nitrile seal)
-40° F to +250° F.
Locking Device
CAM
Vacuum Service
Not Recommended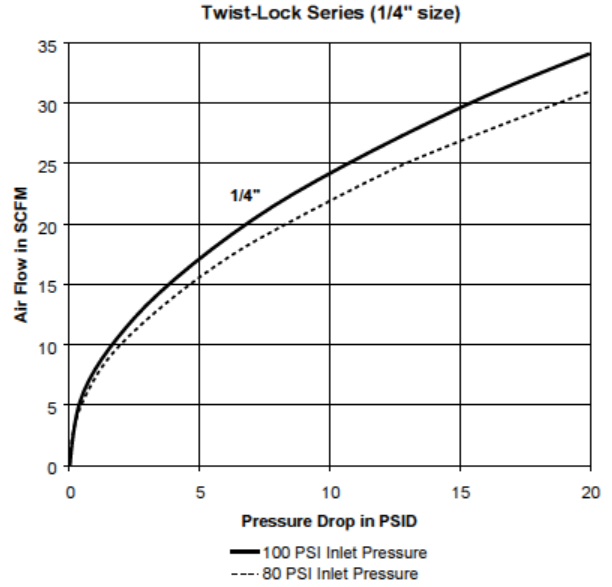 Parker General Purpose Pneumatic Coupling Repair Kits
The repair kits below are for Parker 10, 20, 30, 50, 70, & TL Series Pneumatic Couplings.
Body


Size

Seal


Material

Part


No.

1/4
Nitrile
21K
1/4
Ethylene Propylene
21KW
1/4
Fluorocarbon
21KY
3/8
Nitrile
14K
3/8
Ethylene Propylene
14KW
3/8
Fluorocarbon
14KY
1/2
Nitrile
16K
1/2
Ethylene Propylene
16KW
1/2
Fluorocarbon
16KY
3/4
Nitrile
38K
3/4
Ethylene Propylene
38KW
3/4
Fluorocarbon
38KY
Orders & Quotes
When ordering quick couplers, consider the following:
Functional requirements of the coupling
Maximum working pressure of the application
Coupler seal & body material compatibility with the system's fluid
Is the application static or dynamic?
Size of coupler & hose
Maximum allowable pressure drop
Requirement to connect & disconnect under pressure
Media temperature
Ambient temperature
End configuration requirements
Need for industrial interchange QC
Effects of air inclusion & fluid loss