Parker General Purpose Quick Couplings | Manual Connect
| | | | |
| --- | --- | --- | --- |
| | | | |
| The original "Tru-Flate" Design | Accept industrial interchange nipples | Interchangeable with ARO 210 Series | Interchangeable with Lincoln "Long Stem" Series |
To connect Parker manual connect pneumatic quick couplings, pull back the coupler sleeve, insert the nipple, and release the sleeve. To disconnect, pull the sleeve back to release the nipple.

Connecting and disconnecting Parker manual connect air couplings is easy, but it requires use of both hands. If one-handed operation is required, use push-to-connect style couplings instead.



CAUTION:

When disconnecting couplings under pressure, firmly hold both halves of the coupling. The residual pressure may result in hose whip, which can lead to injury and damage of property.
Component Part Features for Parker Pneumatic Manual Couplers | Series 10, 20, 50, & 70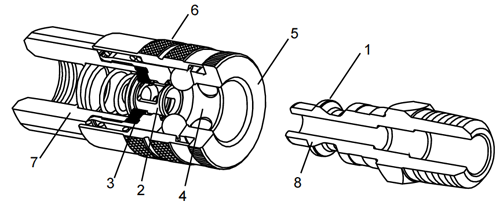 Precision machining, hardened wear points* and solid barstock construction provide long life even in rugged applications.
Tubular valve with large flow passages delivers high air flow with minimal pressure drop for efficient performance. The tubular design provides 360° support for both the valve seal and the mating nipple for long service life.
Precision molded seals form a "bubble tight" seal for reliable operation within rated working pressures. Standard seal material is Nitrile. Ethylene Propylene, Fluorocarbon and Neoprene seals are available as options.
Proven ball locking mechanism with large numbers of hardened steel or stainless steel locking balls evenly distribute the load to resist wear and provide positive connections. The ball locking mechanism also provides accurate alignment and allows a swiveling action to reduce hose torque.
Integral sleeve guard protects the sleeve and resists accidental disconnects by allowing the coupling to ride over obstructions without the sleeve being retracted.
Knurling and/or grooves on sleeve provide a gripping surface for ease of operation.
Wide range of body sizes, materials, options and end terminations are available to meet specific needs. Parker sleeve type couplings are available with male pipe thread, female pipe thread, standard hose barb, Push-Lok hose barb**, and reusable hose fitting ends. Standard body materials are brass in 1/4" body size and steel in larger sizes.
Parker sleeve type couplings are available in interchanges for industrial interchange, Tru-flate, ARO 210 and Lincoln long stem design nipples.
* Steel nipples only.
** Push-lok hose barbs are designed for use with Parker Push-lok hose and do not require clamps.
Parker Pneumatic QC Options
GRIP-RING SLEEVE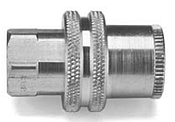 The Grip-Ring sleeve enables the operator to connect or disconnect the coupling easily, even with greasy hands or while wearing heavy gloves.
Grip-Ring sleeves are available for 10 and 20 Series couplers. To specify a model with a Grip-Ring sleeve, add the suffix letter "R" to the regular model part number. Example: B13R.
Caution: The Grip-Ring sleeve is subject to unintended disconnect if dragged on the end of a hose. Do not attempt to pull connected coupling over obstacles.
SLEEVE-LOK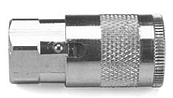 All sizes of 10, 20, 30, 50, and 70 Series couplers can be furnished with Locking Sleeves.
Place suffix letters -"SL" (Sleeve-Lok) after regular catalog number. Example: B13-SL
OPTIONAL SEAL MATERIALS
Available for 10, 20, 50, & 70 Series Parker Pneumatic Couplings
Ethylene Propylene - temperature range from -65°F to +400°F (use part number suffix "W" to specify)
Fluorocarbon - tempreature range from -30°F to +400°F (Use part number suffix "Y" to specify)
---
Contact us with any questions regarding options not listed.