Parker F82EDMX | JIC Metric Male Connectors | Triple-Lok®
JIC Metric Male Connectors

Part #: F82EDMX
Manufacturer: Parker

37°Flare /Metric-ED

TUBE
FITTING
PART #

END SIZE

C4
(mm)

L5
(mm)

Dynamic
Pressure
(x 1,000 PSI)

1

2

(mm)

(in.)

Male Metric
Parallel Thread

-S1

-SS2

-B3

4M10F82EDMX

6

1/4

M10x1

14

30.0

7.2

5.0

3.3

5M12F82EDMX

8

5/16

M12x1.5

17

34.0

6.0

5.0

3.3

6M14F82EDMX

10

3/8

M14x1.5

19

35.0

6.0

5.0

3.3

6M16F82EDMX

10

3/8

M16x1.5

22

36.0

6.0

5.0

3.3

8M16F82EDMX

12

1/2

M16x1.5

22

38.5

6.0

5.0

3.3

8M18F82EDMX

12

1/2

M18x1.5

24

38.5

5.0

5.0

3.3

10M18F82EDMX

14,15,16

5/8

M18x1.5

24

42.5

5.0

5.0

3.3

10M22F82EDMX

14,15,16

5/8

M22x1.5

27

44.5

5.0

5.0

3.3

12M22F82EDMX

18,20

3/4

M22x1.5

27

49.0

5.0

5.0

3.3

12M27F82EDMX

18,20

3/4

M27x2

32

51.0

5.0

5.0

3.3

16M33F82EDMX

25

1

M33x2

41

54.5

4.0

4.0

2.6

20M42F82EDMX

30,32

1 1/4

M42x2

50

60.0

4.0

3.0

2.0
1 Steel
2 Stainless Steel
3 Brass
Related Resources
JIC | Parker Triple-Lok®
37° Flare JIC Fittings are widely accepted throughout the world due to their simplicity and versatility.
Parker's JIC (Triple-Lok) fittings are available with many port options, such as SAE straight thread, NPT/NPTF, BSPP, BSPT and Metric, including ISO 6149. Parker Triple-Lok fittings conform to SAE J514 and ISO 8434-2 industry standards.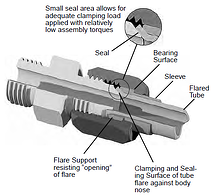 JIC fittings are readily adaptable to pipe, inch or metric tubing and hose.