Parker F65OL | O-Ring Face Seal Straight Thread Swivel Connector | Seal-Lok
ORFS Stright Thread Swivel Connector

Part #: F65OL
Manufacturer: Parker
Meets or exceeds: SAE 520181

ORFS Swivel /SAE-ORB

TUBE

FITTING

PART #

END SIZE

H

HEX

(in.)

L5

(in.)

Dynamic
Pressure

(x 1,000 PSI)

1

(in.)

2

UN/UNF-2A

-S1

-SS2

4 F65OL

1/4

7/16 - 20

5/8

1.46

9.2

9.2

6 F65OL

3/8

9/16 - 18

3/4

1.57

9.2

9.2

8 F65OL

1/2

3/4 - 16

7/8

1.95

9.2

9.2

10 F65OL

5/8

7/8 - 14

1 1/16

2.13

6.0

6.0

12 F65OL

3/4

1 1/16 - 12

1 1/4

2.34

6.0

6.0

16 F65OL

1

1 5/16 - 12

1 1/2

2.66

6.0

6.0

20 F65OL

1 1/4

1 5/8 - 12

1 7/8

2.66

5.0

5.0
1 Steel
2 Stainless Steel
Related Resources
ORFS | Parker Seal-Lok™
O-Ring Face Seal (also referred to as ORFS or Face Seal) fittings are very effective in eliminating leakage in applications involving higher pressures, vibration and impulse.
Seal-Lok's O-ring captive groove is engineered to work with Parker's trapezoid O-ring to minimize a chance of the O-ring popping out of the groove.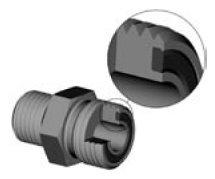 ORFS fittings are readily adaptable to pipe, inch or metric tubing and hose.