Specialty Industrial Hoses | Parker | E-Z FORM™ GS General Service Hose | 7395 Series
Series 7395 is an extremely flexible, lightweight low pressure hose designed to handle air, coolant, mild chemicals and water. The hose construction incorporates a tube that is resistant to commonly used coolant mixtures, a wire helix that provides full suction/vacuum capability and a path to conduct a static electrical charge to ground, and a cover that is resistant to abrasion, mild chemicals, heat and ozone. The unique Greek cover corrugations are tightly pitched and precision-engineered, providing minimal force-to-bend, superior kink resistance, and maximum flexibility for ease of handling. Series 7395 is capable of being routed through confined spaces where formed hose might normally be required.

NOTE:

Do not drag across sharp edges or highly abrasive surfaces,

For E-Z FORM™ oil resistant multipurpose hose, refer to Series 7219.




TUBE

Black EPDM

REINFORCEMENT

Multiple textile plies with wire helix

COVER

Black EPDM; Greek corrugated finish

TEMPERATURE RANGE

-40°F to +257°F (-40°C to +125°C)

DESIGN FACTOR

4:1

INDUSTRY STANDARDS

SAE J20R2-D1 performance

APPLICATIONS

Air, coolant, mild chemicals, water

Coolant systems, drain lines, vacuum service

SAE-performance in engine coolant service, general industrial

VACUUM
Full

PACKAGING

3/8" through 1": 25-ft coils in cartons; nominal 300-ft reels, 5-pc max, 25-ft min


1-1/8" through 4": Coils
Part Number

ID

Reinf
Plies

OD (in)

Min Bend Rad (in)

Max Rec WP (psi)

Perm
Cplg
Rec

(in)

7395-0375025

3/8

2

0.8

1

150


HY

7395-0375300

3/8

2

0.8

1

150

HY

7395-0500025

1/2

2

0.906

1.4

75

HY

7395-0500300

1/2

2

0.906

1.4

75

HY

7395-0625025

5/8

2

1.024

1.8

75

HY

7395-0625300

5/8

2

1.024

1.8

75

HY

7395-0750025

3/4

2

1.142

2.0

75

HY

7395-0750300

3/4

2

1.142

2.0

75

HY

7395-1000025

1

2

1.378

2.0

75

HY

7395-1000300

1

2

1.378

2.0

75

HY

7395-1125025

1-1/8

2

1.496

2.6

75

*

7395-1125130

1-1/8

2

1.496

2.6

75

*

7395-1188025

1-3/16

2

1.575

3.0

75

*

7395-1188130

1-3/16

2

1.575

3.0

75

*

7395-1250025

1-1/4

2

1.693

3.1

75

HY

7395-1250130

1-1/4

2

1.693

3.1

75

HY

7395-1375025

1-3/8

2

1.811

3.7

75

*

7395-1375130

1-3/8

2

1.811

3.7

75

*

7395-1500025

1-1/2

2

1.929

3.9

75

43

7395-1500130

1-1/2

2

1.929

3.9

75

43

7395-1563025

1-9/16

2

2.008

4.3

75

*

7395-1563130

1-9/16

2

2.008

4.3

75

*

7395-1625025

1-5/8

2

2.087

4.7

75

*

7395-1625130

1-5/8

2

2.087

4.7

75

*

7395-1750025

1-3/4

2

2.205

5.1

75

*

7395-1750130

1-3/4

2

2.205

5.1

75

*

7395-2000025

2

2

2.480

5.9

75

43

7395-2000130

2

2

2.480

5.9

75

43

7395-2188025

2-3/16

2

2.638

7.1

75

*

7395-2188130

2-3/16

2

2.638

7.1

75

*

7395-2250025

2-1/4

2

2.756

7.9

75

*

7395-2250130

2-1/4

2

2.756

7.9

75

*

7395-2375025

2-3/8

2

2.874

8.3

75

*

7395-2375130

2-3/8

2

2.874

8.3

75

*

7395-2500025

2-1/2

2

3.012

8.7

75

*

7395-2500130

2-1/2

2

3.012

8.7

75

*

7395-2563025

2-9/16

2

3.071

9.0

75

*

7395-2563130

2-9/16

2

3.071

9.0

75

*

7395-2750025

2-3/4

2

3.307

9.8

75

*

7395-2750130

2-3/4

2

3.307

9.8

75

*

7395-3000025

3

2

3.543

10.6

75

*

7395-3000130

3

2

3.543

10.6

75

*

7395-3125025

3-1/8

2

3.701

11.8

75

*

7395-3125130

3-1/8

2

3.701

11.8

75

*

7395-3375025

3-3/8

2

3.937

12.9

75

*

7395-3375130

3-3/8

2

3.937

12.9

75

*

7395-3500025

3-1/2

2

4.094

13.6

75

*

7395-3500130

3-1/2

2

4.094

13.6

75

*

7395-3563025

3-9/16

2

4.134

13.8

75

*

7395-3563130

3-9/16

2

4.134

13.8

75

*

7395-4000025

4

2

4.567

15.7

75

*

7395-4000130

4

2

4.567

15.7

75

*

WARNING! "
Couplings attached with bands or clamps may reduce the working pressure of the hose assembly to less than the maximum rated working pressure of the hose. Refer to the NAHAD Industrial Hose Assembly Guidelines.
AVAILABLE HOSE STYLES
Select from the list below to navigate to a specific category...
---
---
---
Other E-Z Form Hoses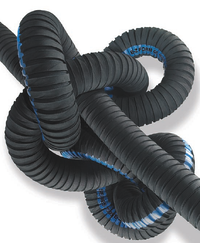 7219 Series E-Z Form
For biodiesel (to B20 in dedicated and non-dedicated service), diesel,ethanol, gasoline. Oil suction/return lines; vehicle fuel fill connector lines; drain lines. Buses, cranes, mobile off-road equipment...

7399 Series E-Z Formz
An extremely flexible, lightweight, high temperature petroleum-based-oil suction/return hose, designed to resist cracking and deterioration from the extreme heat generated in Tier IV engine compartments of buses, cranes, trucks and mobile/heavy duty off-road equipment. Series 7399 may also be used in non-SAE power steering applications and is capable of being routed through confined spaces where a formed hose might normally be required.