Hose and coupling connection is critical to the safe performance of any hose assembly, but the practice of using hose and couplings from different manufacturers to fabricate industrial hose assemblies poses some underappreciated risks.
Hydraulic hose manufacturers typically control the process by designing the whole system for assembling their hydraulic hose assemblies. They manufacture both hose and hose fittings, and they develop standards for crimping the hose fittings onto hoses. In many cases, they also develop crimpers specifically designed to handle fabrication of hose assemblies from parts they manufacture.
This is typically not the case with industrial hose assemblies. The norm is to use a hose, couplings and clamps from different sources, and to use whatever attachment method is available. This poses a problem, because these couplings and hoses are not designed to specifically work together.
Depending on the application, mixing hoses and couplings from different manufacturers to fabricate a hose assembly may not pose a great risk. For example, a little water drip from a low-pressure hose assembly (or even a spill) may earn you a frown from a water conservation agency, but it is not likely to damage anything or lead to a serious injury.
However, for industrial hose assemblies used at higher pressures, and/or to transfer corrosive or toxic materials, a less-than-perfect connection between a hose and couplings can have serious consequences, especially if a hose pulls completely out of its coupling under pressure.
There is an immediate risk of injury to someone close by from being hit by the disconnected hose. Secondary risk results from the substance being spilled, with slip-and-fall injuries as well as injuries related to exposure to the substance released during the hose failure. Machinery can be damaged as well. Depending on location and substance released, environmental clean-up may also be necessary.
In the scenario above, the manufacturers of the hose and coupling (and the clamp, if applicable) will likely all claim that the other manufacturers are at fault of the failure. Finding a true cause, let alone collecting any compensation, is nearly impossible.
To be fair, since manufacturers of hoses do not have control over the manufacturing process of the couplings, and manufacturers of couplings do not have control over the manufacturing process of hoses, neither can fully anticipate how the two products perform together in an practically infinite number of scenarios. Range of temperatures, environments, and the media being transferred are all factors affecting performance of a hose assembly.
The obvious solution would be to use a hose and couplings that are produced by the same manufacturer and designed to work together. However, unlike with hydraulic hose, most manufacturers who make industrial hose do not make fittings for it, and vice versa.
To address this situation, Parker Hannifin maintains a website called CrimpSource. CrimpSource is an online, real-time Parker database that provides validated specifications for attaching permanent crimp couplings to Parker industrial hose using Parker crimping equipment. It addresses industrial hose assembly as a system, not just a collection of parts. The system consists of the hose, couplings, and crimper used to fabricate the assembly. Users select the crimper, hose and coupling combination they plan to use and the website provides crimp specifications.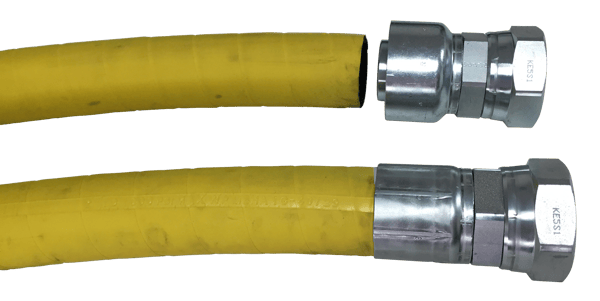 The capacity of the crimper being used is taken into a consideration – that is why the crimper is selected first. The list of hoses in the next step only contains hoses that can be crimped using the selected crimper. The last step lists only the hose ends which can be used with the selected hose.
Download the IHP CrimpSource Manual for free and consult CrimpSource for your Parker industrial hose assembly specs going forward.