Back in May, you may have read our blog about remote hydraulic system condition monitoring. In that post, we presented Parker's SensoNODE™ line of sensors, which monitor temperature, humidity and pressure changes in a hydraulic system and can be accessed remotely via Bluetooth® app. However, the connected technology of the Industrial Internet of Things (IIoT) is growing and changing rapidly – just five months after the original post, there is already more to share with you on the topic. First, we will quickly review the three major methods of monitoring the condition of your hydraulic equipment.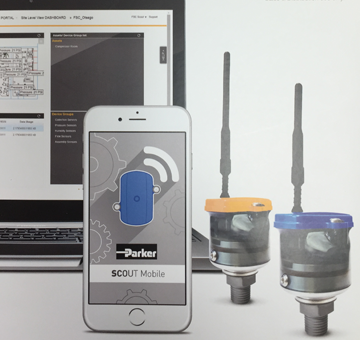 Anyone involved with plant or equipment maintenance knows that poorly maintained equipment is a leading cause of unexpected down time, and that preventive maintenance plays a key role in keeping systems reliable and running. Traditionally, key components of hydraulic and pneumatic systems are monitored regularly. Unfortunately, even frequent checks do not always uncover problems before they cause unscheduled shut down. If a pressure spike does not occur when measurement is taken, for example, it can go undetected until it's too late.
A significant improvement over the traditional monitoring method is to permanently install sensors at critical points of a system. Some modern sensors are capable of recording data and storing them for later review. While this is a vast improvement over the traditional method, one issue still remains – someone has to go around and check/download the collected data. As with the traditional method, this is time consuming – and it still exposes the maintenance personnel to risk of being injured by moving parts, burned, or exposed to hazardous substances. To address this problem, an IIoT solution is at hand.
The SensoNODE™ IIoT solution involves sensors installed at all critical points of the system, software to monitor the system condition remotely and collect data (plus run analytics on the conllected data) – and a wireless connection to make the two work together. Parker Hannifin offers the complete solution to remote systems monitoring and analysis:
SensoNODE™ Blue family of sensors
SensoNODE ™ Gold family of sensors
SCOUT Software
SensoNODE™ is a system of easy-to-install wireless sensors, compatible with a wide range of applications. They collect and transmit system condition data to remote devices.
SensoNODE™ Blue sensors collect consistent and accurate readings for Pressure, Temperature, and Humidity and transmit the data to Bluetooth®-enabled devices like smart phones. A free SCOUT Mobile app is available. SensoNODE™ Blue's features include:
Diagnostics mode to collect streams of data for analysis
Beacon mode gives measurements and charts to any user within range
Easy wireless connection process
No power supply needed
Compact, lightweight design
Robust use in harsh environments
LED indicator aids in identifying sensor status
Each sensor is uniquely identifiable for association with assets or processes
Remote monitoring with Bluetooth® Smart Technology – no special device is required to read the information
As our previous blog discussed, SCOUT Mobile software uses wireless Bluetooth® technology to provide diagnostic data from the SensoNODE™ condition monitoring sensors. The software sends data to an app on the user's mobile device, where they can track historic trends and set customized alerts to be sent when a sensor detects changes in a particular range.
SensoNODE™ Gold provides a cloud-based IOT solution for continuous monitoring. The system is ideal for predictive maintenance of multiple condition types, with the option to add power and flow monitoring as well as the standard temperature, pressure and humidity. SensoNODE Gold includes all the benefits of Blue, plus these additional features:
Customizable alerts and dashboards
Long battery life with frequent reporting
Low power usage and long-range radio signal
Remote and automated monitoring of long-running tests
Reporting of sensor health, signal strength and battery life
SCOUT Cloud is Parker's cloud-based continuous condition monitoring software that provides alerts, status and analytics. The data can be accessed any time via Internet.
Remote monitoring of multiple sites and sensors
Capability for multiple users with role-based permissions
Access from any browser
Aggregated view of data
Identification of equipment issues based on alerts
SCOUT Edge enables connectivity of the sensor network to other local enterprise applications. This remotely managed, upgraded system ensures delivery of sensor data to the cloud, even if the communication link is down.
Control collection of sensor data
Data aggregation
Remotely managed and upgraded
---
SCOUT Cloud and SCOUT Edge software is available now for TransAir customers only, with a general release scheduled for 2016. With SCOUT Cloud, you can access your data anytime, anywhere with a broadband signal.

The ability to connect your equipment assets and gather useful data will only continue to grow as cloud-based and mobile technology solutions become more prevalent in industrial applications. Remote conditions monitoring systems like Parker's SensoNODE™ and SCOUT can prevent shut-downs and lost productivity due to unscheduled maintenance, giving you the tools to stay ahead of equipment failure and keep your systems operating efficiently.