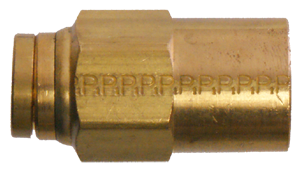 In most transportation applications there are clear advantages to using D.O.T. approved push-to-connect fittings over compression fittings.
While push-to-connect fittings typically cost more than compression fittings, quicker installation, less maintenance and less chance for leakage can make up for a higher purchase price. Additionally, the compact design of push-to-connect fittings is ideal for precise positioning in tight places.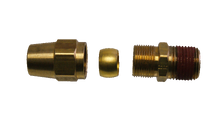 Compression fittings are available in more sizes and configurations than push-to-connect fittings. Some compression fittings can support a higher PSI rating than their push-to-connect counterparts.
Compression fittings also require the use of tools to install, whereas push-to-connect fittings can be easily installed or removed without using tools, minimizing the chance of damaging equipment.
The nut on a compression fitting must be tightened correctly in order to create a seal and guard against leakage. With push-to-connect fittings, there are no compression nuts that need to be tightened. Simply pushing the fitting onto the hose or tube creates a leak free seal.
Compression fittings sometimes need to be retightened to prevent or to halt leaks. Push-to-connect fittings typically do not need readjusting in order to remain leak free.
When deciding which transportation fitting is right for your vehicle you must take into consideration:
Pounds per square inch (PSI) pressure requirements
Thread type needed
Type of tube or hose that you are connecting the fitting to
Also refer to your owner's manual for your specific application.
For a clear comparison of the transportation fittings reviewed in our prior blog posts "Selecting a Parker D.O.T. Approved Push-to-Connect Air Brake Fitting" and "Choosing Compression Transportation Tube & Hose Fittings," please refer to the table below.
Transportation Fitting Name

*Transportation Fitting Type

Thread Type Available

Pressure (PSI)

Tubing or Hose Type

NTA
Compression
Straight Thread & Pipe

Up to 150
SAE J844 Type A & B Tubing
Transmission
Compression
Pipe only
Up to 150

SAE J844 Type A & B Tubing
AB
Compression
Straight Thread & Pipe

Up to 400
SAE J844 Type A & B, Copper,

Nylon w/ Tube Support
Air Brake Hose Ends
Compression
Straight Thread & Pipe
Up to 225
Parker 271 Hose
Vibra-Lok

Compression
Straight Thread & Pipe
100 to 1000 - depending on size & vibration
Copper, Aluminum, Steel (Bundy), Stainless Steel & Glass
Prestomatic

Push-to-Connect
Pipe & Metric
Up to 250
SAE J844 Type A & B Tubing
PTC Composite
Push-to-Connect
Pipe only
Up to 250
SAE J844 Type A & B Tubing
Metric Prestomatic
Push-to-Connect
BSPT & Metric
Up to 250
DIN 73378 Virgin Nylon,

SAE J844 Tubing
*All compression and push-to-connect air brake fittings are D.O.T. approved.
Questions about Parker transportation fittings?
Posted by Linn Martinez