In a previous blog from January 2014, Don't Kill Your Pneumatic System With Bad Air, we wrote about how water, dirt and oil contamination can damage your machine and cause it to run inefficiently. Rust, dust and other impurities can clog air systems and contribute to premature wear and tear on seals and other components. To provide the purest air quality possible, a combination of filters should be connected to the air-flow to capture these impurities before they contaminate the system. However, each compressed air system has unique needs – what may be right for one system may not be the correct choice for another application, when considering environmental factors or fitting a system into a tight space.
Parker's Air Preparation products allow you to select the type of filters that best suit your compressed air equipment and applications. Specific filters remove different things and have unique capabilities. The particulate filters remove solid particles down to 5 micron and separate bulk contaminants. Submicron particulates (down to 0.01 micron) are removed by coalescing filters, along with water and oil aerosols. Finally, activated carbon filters remove trace vapors and odors from critical applications, resulting in a system flow of clean, dry air.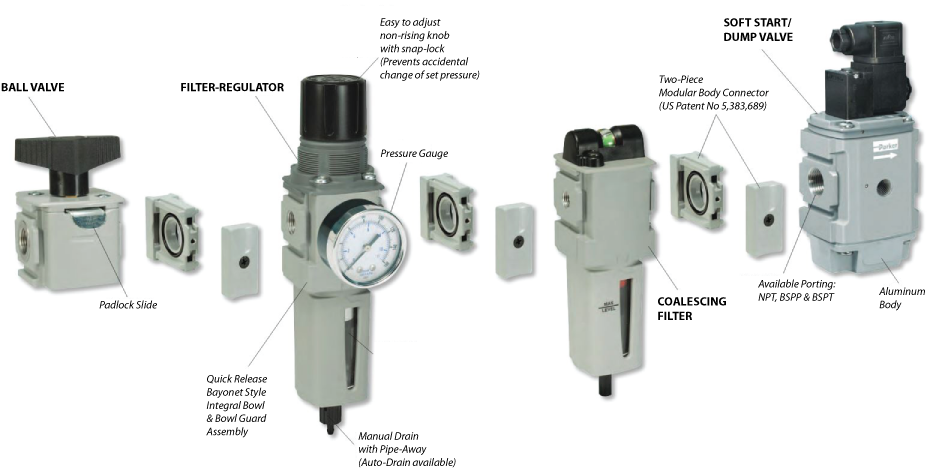 The flexible, modular design of the Global Air Preparation system creates a compact, streamlined filtration system for your equipment. Available in three sizes – Mini, Compact and Standard – the Global Air Preparation family of products has a variety of options available for a wide range of air flows and pressures:
NPT, BSPP & BSPT ports in ¼", 3/8", ½" and ¾" sizes

Poly or metal bowl guards, with or without sight gauges

Manual, pulse or auto drain types

5 micron element standard for particulate filters

1 micron, 0.01 micron and activated carbon adsorber elements for coalescing filters

Mounting L- and T-brackets with body connectors
Parker's new P3Y Series Air Preparation System is designed to operate in the most demanding industrial environments. The P3Y coalescing filter has an extended high-efficiency element, allowing for a greater filtration area. This makes the system ideal for critical applications like air gauging and pneumatic instrumentation. P3Y components can handle temperatures as low as -40˚F, with higher flow capacity compared to other FRL systems. Additionally, the system components are designed to be joined to each other without the use of body connectors, which provides constant mounting centers and helps to save space.
The P3Y Air Preparation series of filters has the following options available:
NPT & BSPP ports in ¾" and 1" sizes

Combined manual/semi-auto or auto drain types

5 micron element standard for particulate filters

0.01 micron with or without DPI (Differential Pressure Indicator) and activated carbon adsorber elements for coalescing filters

Neck and wall-mounting brackets with connecting kits