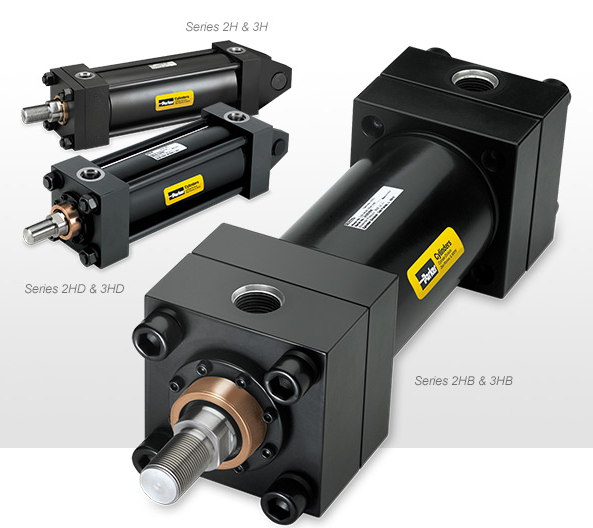 Last year, Parker introduced the Gen II style hydraulic cylinders, which replace the legacy 2H and 3H series. This change brought many improvements to the cylinders' delivery times and longevity. So how do you convert your old part numbers to the Gen II cylinder part numbers? The short answer is that Parker already did the work for you - for the most part.
Parker engineers have programatically converted the legacy 2H/3H cylinder part numbers (CPN's) and model numbers to the Gen II style. Converting programmatically eliminates the time to manually convert and increases the consistency and accuracy of new configuration data. By September 2016, 97% of pre-Gen II launch CPN's for Legacy design had been converted and added to Parker's PHconnect site, where Parker distributors can access the information. This means that your Parker distributor can quickly convert the legacy cylinder part numbers to Gen II in the vast majority of cases. Exceptions are special cylinders created on an internal, non-rules based platform that will need to be manually converted by Cylinder Division personnel. We can help you if your cylinder falls into this group.
Normally, converted Gen II CPN's will have the same last six numeric digits as the original Legacy CPN. For example, Legacy CPN 1H00140211 becomes Gen II CPN 1H2HOA000140211.
Because the Gen II model number is revised from the Legacy version and piston seal styles are different, model number conversion rules for the Piston Seal, Magnet, Gland & Seal and Seals field were developed by Cylinder Division Engineering and Marketing. We recognize that these conversions may not be optimal for every application situation. If they are not, your distributor can help you.
See below for key model number differences and tables for series 2H/3H and 2HD/3HD with Parker recommended conversions.
New CPN Format for Gen II 2H/2HD/2HB and 7.00" & 8.00" Bore 3H/3HD/3HB
The CPN format is revised from an 11 character string to 14 characters that includes series identification and revision level. The new CPN format for GEN II, described below, allows clear differentiation from the Legacy CPN. Note that newly configured Gen II CPN's will begin at number 250000, for further distinction from CPN's converted from the Legacy design. CPN's will also sequence independently within each of the 4 new series listed below.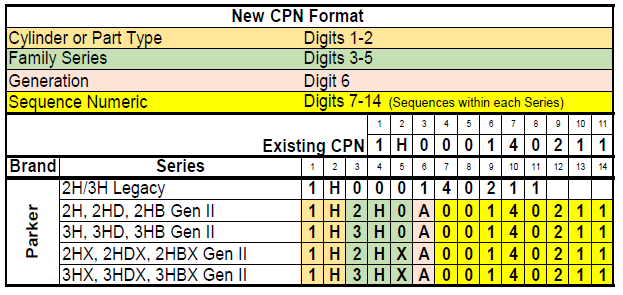 Configured Gen II service parts will also follow the new CPN format.
Cylinder Head part number - 2H2H0A00140211
Cylinder Cap part number - 3H2H0A00140211
Cylinder Piston and Rod Assembly part number - 4H2H0A00140211
Cylinder Body part number - 5H2H0A00140211
Complete set of Tie Rods for Cylinder part number - 7H2H0A00140211
Model Number Comparison - Gen II versus Legacy 2H/3H