The Power of Collaboration: REELCRAFT and MFCP's Distribution Partnership
Written by
Mike Robinson
 | read
Reelcraft

®
names Motion and Flow Control Products, Inc. their

Distributor of the Month

in March, during Distributor Appreciation Week!
See below their announcement:
"

Motion & Flow Control Products (MFCP) is more than a distributor—they're a one-stop solutions provider to virtually everything that moves or requires control. They provide motion and control technology systems and engineering services for various commercial, mobile, and industrial markets. With the addition of the Reelcraft product line, they can also provide a solution for your hose and fitting needs and for keeping your operators and facilities safe.
When you team up with MFCP, you can expect:
Advanced technology

Exceptional performance

High levels of reliability, serviceability, and support
We are grateful for our partnership with Motion & Flow Control Products and their support of Reelcraft!

"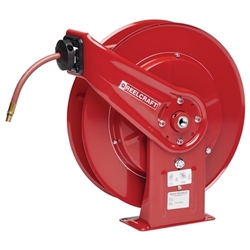 MFCP has identified how Reelcraft's alignment with our three tenets has been beneficial to us. We have no reason to keep the mutually beneficial aspects of our distribution partnership hidden. Specifically, Reelcraft conforms to MFCP's three guiding principles by providing:
Exceptional and dependable high-quality reels

Outstanding customer service and support

Premier safety solutions

Name brand recognition as an industry leader
MFCP's partnership with Reelcraft continues to strengthen as
Reelcraft responds promptly to opportunities presented by MFCP

MFCP promotes Reelcraft's broad line of reel products

Reelcraft is committed to shorter lead times with their west coast warehouse

MFCP responds quickly to sales leads provided by Reelcraft

Reelcraft works with MFCP to provide training and joint sales calls

Motion and Flow Control Products, Inc. provides access to the catalog of available Reelcraft products here.

Manufacturing the widest range of hose, cord, & cable reels covering light, medium & heavy duty applications
Published
Wed, Apr 19, 2023 @ 02:08 PM