Parker Crimp die selection
Selecting the correct Parker crimp die to use with your Parker Crimper is essential to making a quality hose assembly. Sometimes it's tough to remember which Parker crimp die to use with each fitting. The example below will show you a few easy steps to ensure every Parker hose assembly is crimped with the correct Parker crimp die.
NEW - Motion & Flow Control Products, Inc. weatherproof, color bin labels for customers! Our new labels feature a picture and description of the corresponding Parker crimp die on each part label. How much easier can it get? Become a customer today and start utilizing our new labels and Bin Stocking Service.
Example
Sample part number – 10343-6-4 (Male JIC 37o)
1. Determine the series of the fitting you will be crimping i.e. 10343-6-4 (43 Series).
2. Determine the size of the fitting – commonly referred to as the dash size i.e. 10343-6-4 (-4). (Fitting dash size represents 1/16 of an inch. -4 = 4/16 = 1/4")
3. Find the corresponding hose fitting series (43 Series) and dash size (-4) on the Parker Crimp Die Selection Chart (below) to find the correct crimp die for your hose assembly.
As you can see, some fittings can be crimped with the same Parker crimp die. Some fittings are not produced in certain dash sizes; this is designated by "N/A" in these categories.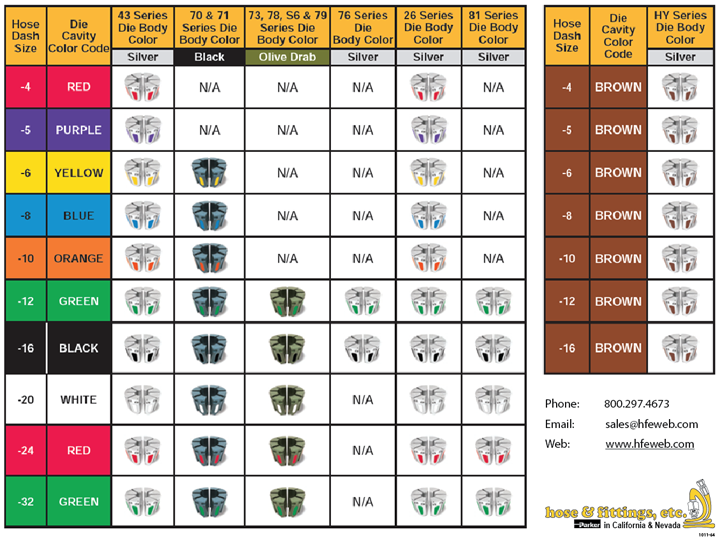 Solution:
The 10343-6-4, a 43 Series Parker hose fitting with a dash size of -4, would need to be crimped using a silver body die with red-colored cavities.
Posted by Vince Lockwood