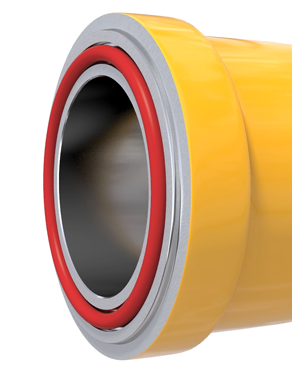 We receive many requests regarding seal retention, but why is it so important? There are three main reasons: ease of component assembly, serviceability, and transit issues.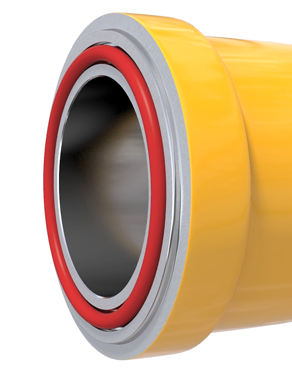 For example, seal retention is essential when you have complex groove paths where your groove must be routed around bolts or ports. Additionally, seal retention improves serviceability by eliminating the need for liquid sealants, which can be challenging to clean. Last but not least, seal retention resolves transit issues by ensuring a seal remains in the groove during transport from workstation to workstation.
PIP design reduces installation strain or fatigue in high-volume applications.
Parker offers an array of PIP Seals to accommodate these application challenges. Each particular profile provides performance properties to address issues like larger tolerance stock, low seal load, and complex groove paths, to name just a few.
Press-In-Place Benefits
Parker's Press-In-Place seals are custom designed to fit into complex groove patterns without having to be stretched. These custom seals are designed to withstand a wide variety of environments, fluids, pressures, and temperatures.
In similar seal heights, a standard PIP groove is 60 percent narrower than traditional grooves. Seal retention is achieved by sidewall interference, requiring no adhesives. The PIP design also maintains high-pressure differentials, provides lower seal load, optimizes material use, and is easy to install.
Compared to dispensed Form-In-Place (FIP) seals, PIP seals have several advantages. For example, PIP seals can be easily and quickly changed out during maintenance, where FIP removal often damages the groove. FIP seals also require a considerable investment in machines and fixtures, while PIP seals deliver higher performance and robustness without expensive tooling or fixture costs.
Below are several Parker PIP standardized profile options:
Molded Diamond is molded to the shape of the groove path using retention beads intermittently along the seal to keep it secure. This PIP seal can save space up to 60 percent versus traditional seals and allows a much smaller bend radius. The diamond seal design can combine multiple parts into one and enables fast assembly. Applications include high-volume automotive and low-volume military programs.
Hexapod is excellent for retention and lower pressure applications. It is also extruded and spliced, which makes it a perfect choice for large enclosures. Applications include EV batteries and heavy-duty engines.
The keyhole profile reduces deflection and the number of fasteners thanks to its low load. This PIP seal is also great for environmental sealing (little or no pressure) and larger tolerances. In addition, it is very easy to install. Applications include plastic housings and stamped covers.
Jigsaw profile is extruded and supplied in long lengths with no splicing required. The Jigsaw seal can be cut to size and requires no adhesive but does require a groove overlap. Applications may include multiple port sizes where just one part can be used for the whole assembly and in-field installations where a pre-sliced or continuous part may be impossible to install.
O-Ring is a good solution for retention and comes in three types: standard & custom sizes; extruded with spliced rings and cord stock, and custom molded plan view. Each type has its own benefits, including cost-effectiveness, tight minimum bend radius, customized cross-sections, and more.
EZ-Lok is an axial seal designed for retention in dovetail grooves. The EZ-Lok seal is designed specifically to simplify and error-proof the installation process. In addition, this PIP seal minimizes seal wear on groove corners and removes the parting line from the sealing surface. It is currently used in the semiconductor market and whenever the ease of seal installation and performance are critical.
Hollow O-Ring is extruded, spliced, and low load, which allows for a reduction in fasteners. O-rings are easily customizable and are slightly oversized compared to the groove. However, they will not overfill the groove like a standard O-Ring. Like other hollow profiles, the Hollow O-Ring is not suitable for high-pressure applications.
Bulb comes in standard and custom profiles and is highly compliant to variation, i.e., your components to flex, run out, etc. If you have a groove that is already machined or spec'd in and you need a seal to fit, a custom bulb seal may be your best option.
Other retention options include Friction Fit Hollow O; Friction Fit Hollow Profile; PSA on Profile; Dart Profile in Custom Groove; Dart Profile in FF Groove; Hollow Profile Mechanically Fastened; PSA on Hollow D; and Hollow Profile Pressed into Metal Track.
Contact us for help selecting the right PIP seal for your application.
This content was compiled from Parker's blog written by Samantha Sexton, marketing communications manager at Parker O-Ring & Engineered Seals Division.
Published
Tue, Nov 16, 2021 @ 11:45 AM