53DM/538DM DuraMax™ Thermoplastic Elastomer Jacket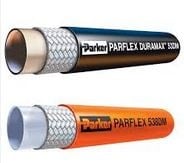 If you're working with a low-temperature application, you need hose assemblies that won't lose flexibility or strength in the cold. Hoses that aren't designed for these harsh environments can crack or burst, causing unexpected downtime and costing you money for repairs and replacement. A standard hydraulic hose in these conditions may also lack the flexibility needed for routing on your equipment and the ruggedness to stand up to repeated abrasion.
The solution is to purchase hose constructed with specialized materials that can withstand these low-temp applications. Parker's 53DM/538DM DuraMax™ low-temperature hydraulic hose is an excellent choice for construction and agriculture in cold climates, refrigeration, cold storage and other industries where equipment is regularly exposed to freezing temperatures. The low coefficient of friction and high abrasion resistance in the original, matte copolyester cover has made 53DM/538DM ideal for a variety of applications, including over-the-sheave for lift trucks. It also has a superior bend radius (when compared to SAE J517 and 100R18), and smaller O.D. than 100R7 and 100R18. The 538DM hose is non-conductive, meeting SAE J517 standards.
While the original cover was already rugged enough to withstand some of the most extreme low-temperature conditions, Parker has made further improvements with a new thermoplastic elastomeric jacket for the 53DM/538DM. This new cover not only looks different – the matte copolymer has been replaced with a glossy thermoplastic material – it also works harder for you. Previously, the temperature rating for 53DM/538DM ranged from -40° F to 212° F. With the new jacket, these hoses can withstand up to -70° F in flash freeze conditions. Additionally, abrasion resistance has increased by 20-30%, and the coefficient of friction has been lowered by approximately 80%. The end result is a highly durable and resilient low-temp hose.
At a Glance
Original 53DM/538DM Outer Jacket
-40° F to 212° F
Excellent abrasion resistance
Low coefficient of friction
Matte, copolymer cover
Updated 53DM/538DM Jacket
-70° F flash freeze resistance
Abrasion resistance increased by 20-30%
Coefficient of friction lowered by 80%
Glossy thermoplastic elastomer cover
Blue Nylon Tough Cover for 2440N-08 Water Jetting Hose
The 2440N-08V32-TC ultra-high pressure water jetting hose is now available with a tougher, WJTA-compliant nylon cover. Parker's 2440N hose provides service for the construction and shipbuilding industries, along with general industrial cleaning applications that require high-pressure water jetting. The 2440N Series hose excels at hydrodemolition and removing accumulated dirt and other materials from concrete and asphalt.
| | |
| --- | --- |
| | |
| 2440N-08V30 | 2240N-08V32 |
The previous version of this hose (2440N-08V30) was constructed with a black polyamide cover, with the blue Tough Cover only available through size -05. The addition of a TC option means that the -08 size is now compliant with the water blast industry's recommended blue outer jacket color, with the addition of increased abrasion resistance and toughness. The minimum bend radius for this hose size remains the same, at 200 mm, with a ½" I.D. and 22.5 mm O.D.
New PVC Resin for Parflex PV-Series Tubing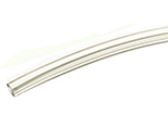 Parker Hannifin's Parflex Division has announced that a new PVC (Polyvinyl Chloride) resin material will be added to the manufacturing process for their PV Series of clear vinyl tubing. The new resin introduction is Parker's effort to bolster the supply base and will be a running change beginning in February 2016.
The resin for the PV-Series is formulated for superior purity, clarity and flexibility, as well as FDA compliance for materials in contact with food or drugs for human consumption. The vinyl tubing's clarity makes it a great choice for low-pressure sight flow gauges, allowing operators to view the media moving through the tubing. Its flexibility allows for soft, easy handling and bending without collapsing the tube during installation and usage.
The quality and appearance of the PV-series tubing will not be affected by this change, with the new PVC resin material meeting the same performance requirements as the previous tubing material. These specifications can be found on page B-44 in the 4660 Parflex Division catalog.
PV-Series tubing is typically used in the following applications:
Low-pressure chemicals
Pneumatics
Low-pressure sight flow indicator
Instrumentation
Laboratory
Part submission warrants, PPAP's and further information is also available upon request from Parker Parflex Division:
Parker Hannifin Corporation
Parflex Division/Fluid Connector Group/Marketing-Sales Dept.
1300 North Freedom Street
Ravenna, OH 44266