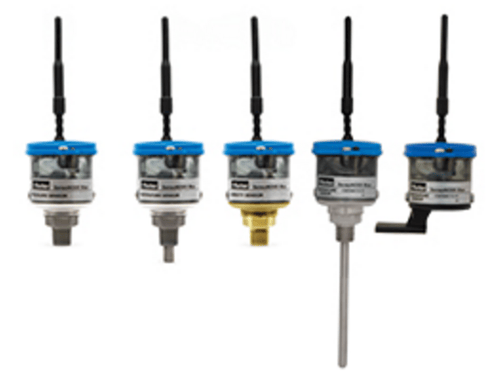 Parker announced an expansion to their SensoNODE Blue line of sensors at the Sensors Midwest Conference in Rosemont, Illinois this September.
The new additions include:
SCOUT Mobile 3.0 – an updated new software. SCOUT Mobile is software used to collect and tabulate data from Parker's wireless sensors. The 3.0 update increases readability of data and customization of alerts and dashboards. Parker claims that it also improves ease of exporting measurements.
A new vacuum sensor – previously only pressure sensors were available. The vacuum sensor is ideal to use with vacuum pump monitoring to help detect leaks.
A 4-20mA transmitter – can be used to convert any wired sensor to a wireless device which can be monitored by a smart phone, iPad, etc.
Two new temperature sensors – a boot design and a probe design. The boot style is specifically engineered for use with mold tooling applications. It determines when tooling is warmed up and ready for operation. The probe design offers more accurate measurement of fluid temperature than the previous temperature meters.
A High-Strain sensor – the stretchable polymer takes accurate measurements while being strained 100% for millions of cycles. SensoNODE high-strain sensors create new possibilities for industrial, medical and wearable applications.
A wired power supply – offers an alternative to relying on battery power in Parker wireless sensors.
A wireless version of ServiceJunior integrated digital pressure gauge was also introduced.
Intro to Parker SensoNODE Blue Wireless Sensors & SCOUT Mobile software
Source: Parker Hannifin
Contributed by Marek Bobik