Busted power steering hose? Save money - salvage your hose ends!
Written by
Marek Bobik
 | read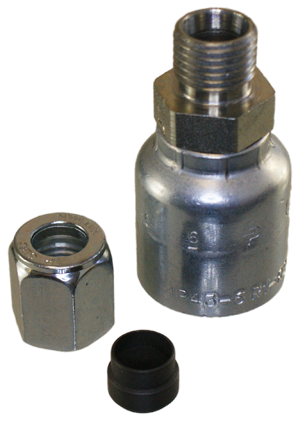 | | |
| --- | --- |
| We have all been there. Your power steering hose, transmission hose or AC hose starts leaking and you are stuck going to the dealer for a replacement. Typically, that option is not cheap and often the new power steering hose has to be special ordered. | |
Hose repair saves money and time
Nine times out of ten, the bent tube part of your power steering hose does not need repair; it is the HOSE part that usually fails first. If this is the case, you can save by bringing your power steering hose to any of our stores for repair.
We use a little known secret called Ferrul-Fix. Ferrul-Fix is a special hose fitting which makes it possible to salvage the bent tube section of the original power steering hose, transmission hose, or even AC hose and only replace the middle part.
Motion & Flow Control Products, Inc. can repair most of the following automotive hoses:
Power steering hose repair with Ferrul-Fix:
The Ferrul-Fix is a 3-piece tube fitting - body, nut and ferrule. The nut and ferrule slide on the end of a tube, the tube end is inserted into the fitting body, and the parts are screwed together. As the nut is tightened, the ferrule is forced into the body of the fitting and "bites" into the tube wall, forming a positive seal. That is how the reused steel parts of the power steering hose are re-attached to the new hose.
The power steering hose repair (or transmission hose, AC hose, etc.) requires the following steps:
Cut off the steel fittings (the bent tube part) from the old power steering hose assembly
Replace the rubber hose part with a new hose assembly (Ferrul-Fix fitting crimped on both ends)
Attach the steel fittings to the new power steering hose (or transmission hose, or AC hose – whatever you are fixing).
If you would like to learn more, check out the 43-series Ferrul-Fix assembly instructions or 26-series AC tube mender assembly instructions (depending on which hose/fittings combination you are using), or refer to Parker Catalog 4400 for instructions.
Things to watch out for:
No matter which type of hose we are repairing, we will need about 1" of straight tube in good condition in order to be able to attach the fitting to the Ferrul-Fix.
When dealing with AC hose, the tubing diameter must not be metric (we can work with metric tubing on any hose which works with 43-series fittings).
Pay attention to the required pressure rating – read about how to determine the pressure rating of a hose assembly (applies to power steering hose assemblies as well as transmission and AC hose assemblies).
Posted by Marek Bobik
Published
Fri, Sep 23, 2011 @ 04:10 PM