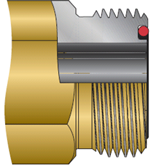 Trapezoidal O-ring shapes up to a more secure, leak-free performance.
Hydraulic leaks are more than a nuisance. They contribute to unsafe working environment and the cost of hydraulic leaks adds up fast.
The Trap-Seal, with its consistently positive retention in the groove, essentially eliminates the possibility of full or partial O-ring pop out which occasionally occurs with standard round-shaped O-rings.
During transit, storage or fitting assembly, the round-shaped O-ring sometimes pops out of the groove. The seal's trapezoidal shape leads to improved retention within Seal-Lok'sTM ORFS groove and virtually eliminates costly leakage and/or time consuming pre-assembly handling.
Plus, for seal replacement in the field a standard O-ring can be used since the groove design has not changed. But because Trap-Seal reduces the possibility of pop out, it also reduces the need to replace or reinstall the seal. Imagine, a seal that doesn't get pinched and fail prematurely.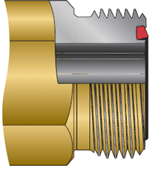 Here's the benefit breakdown:
Improved seal retention
Reduced risk of seal damage and leakage
Works in the standard SAE J1453 half-dovetail groove
Made of the same material with the same hardness as
Parker's standard O-ring (90 Durometer Nitrile)
Posted by Joni Scott