Diagnosing problems before they cause equipment breakdown is a crucial part of ensuring maximum uptime.

Even momentary pressure spikes and flow surges can unexpectedly destroy both components and systems, but the spikes are not recognized by conventional mechanical measuring devices. This is why digital meters are a smart choice. See a related blog on the differences between digital and analog meters. Read on to get an idea which SensoControl meter is right for you.
If pressure measurement is all you are concerned with, Parker ServiceJunior is a great choice.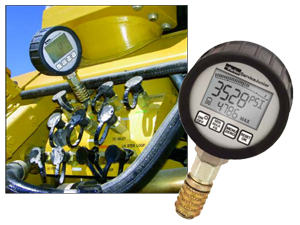 Min/Max Pressure Memory
Great Accuracy
Great Response Time
The ServiceJunior digital pressure gauge scans 100 times per second to identify momentary pressure spikes that often go "unnoticed" by slower responding mechanical gauges. Both minimum and maximum pressures are stored in the ServiceJunior's memory for easy retrieval by the user.
With its large backlit display and simple 4-key menu, the ServiceJunior is a rugged pressure sensor that can provide readings in several different units of measure. Its ability to connect to a variety of industry standard test ports allows technicians to take accurate readings within ±0.5%.
ServiceJunior gauges are available in three different pressure ranges covering vacuum to 8700 PSI.
If you need to monitor more than pressure, or you need to monitor two inputs at the same time, Parker Serviceman may be your choice.
The Ability to Read Pressure, Flow, Temperature & RPM
Two Independent Input Readings
Differential Pressure Capability
Automatic Sensor Recognition
500 scans per Second
The Serviceman is a two-input diagnostic meter that will automatically recognize and scale for pressure, temperature, flow and rotational speed sensors. The meter scans for minimum and maximum readings 500 times per second to ensure that damaging system conditions are detected. Minimum and maximum measurements are stored in memory and can quickly be displayed. The information provided by the Serviceman is displayed on a two line LCD output screen, each input on a separate line.
Differential pressures can quickly be displayed to eliminate additional calculations. The meter is powered by an internal NiMH battery, or an external power supply. Additionally, Serviceman software allows on-line transfer of data to Microsoft Excel.
If you need to monitor more than two measurements at a time or need more complex analysis of the data on your PC, choose Servicemaster.
Six Independent Input Readings
On Board Memory
Ability to Read Auxiliary Sensors
Data Analysis - Downloadable to PC via SensoWin® 4.03 Software
The ServiceMaster is a multi-channel instrument that provides data from up to six inputs. This meter allows an operator to view and record pressure, temperature, flow, and rotation speed.
Measurement recordings can be triggered manually or automatically based upon changing system conditions. Like all SensoControl meters, the ServiceMaster automatically recognizes any Parker sensor being used and requires no user programming.
An added feature of the ServiceMaster provides the user the ability to utilize other manufacturer's sensors, further expanding the usefulness of this meter.
The ServiceMaster's on board memory provides storage for up to 250,000 data points. With the use of the SensoWin software, the data can be downloaded from the meter to a PC for further viewing and analysis. SensoWin software will also interface with Microsoft Excel, allowing a common platform for data exchange.
Test meter kits, transducers, flow sensors, test port couplings and other accessories are available. Please download Parker catalog 3800 USA from our catalog page for additional information.
Posted by Marek Bobik