LEED Certified; Environmentally Friendly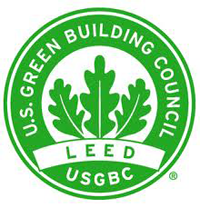 The new Transair piping system is proudly available from Motion & Flow Control Products, Inc. There are many advantages and benefits that are derived from this advanced product line.
The material used to manufacture Transair pipe and fittings is 100% recyclable, and meets the requirements set by the U.S. Green Building Council for Leadership in Energy and Environmental Design (LEED) certification credits. In other words, Transair can help score your business some green karma by way of LEED certified accolades.

Transair piping systems have been specifically designed to ensure a lower impact on the environment, with a low carbon footprint compared to traditional piping systems. In a life cycle analysis - from production of raw materials to end of product life - the use of a six inch Transair pipe system is 5x less harmful to the environment than a traditional steel pipe system. Whether you're aiming to achieve Platinum status or just get certified, Transair can help you attain LEED standards!
Easy Installation
Not only does Transair help ensure a lower impact on the environment with a low carbon footprint, it's also easy to install. Because quick connections eliminate the need to thread or solder pipe, installation is quicker, easier and less expensive than traditional piping systems. With the wide variety of elbows and various connectors, installing a Transair piping system can be not only fast and easy, but creative and fun as well. It is, by some, considered to be the most cost effective and efficient pipe system for compressed air, vacuum and inert gases after considering all cost elements.
Learn more about Parker Transair
Read our related blog about LEED certification
Posted by Vincent Lockwood