MFCP brings hydraulic, pneumatic, electromechanical, and process control parts and systems from leading manufacturers like Parker Hannifin to the Redding market.
Motion & Flow Control Products, Inc. (MFCP) has served customers in the western states for over six decades. Today, we operate dozens of local ParkerStores and regional manufacturing centers and partner with over 180 vendors to design the best solutions for your applications.
ParkerStores
Hose Assemblies Made While You Wait!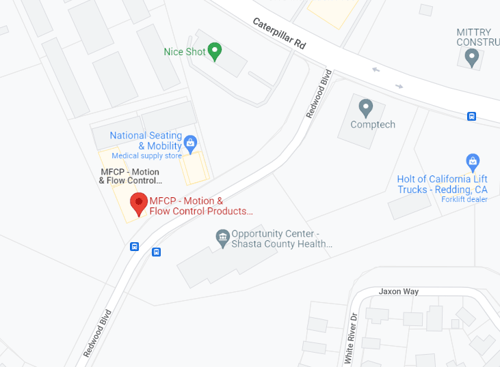 What is a ParkerStore? It is your local source of Parker hydraulic and pneumatic products. ParkerStores have been offering customers a retail environment to purchase hydraulic and pneumatic products since 1993.
At MFCP, we take the concept a little further. We offer products from every Division of Parker, and we complement the Parker line with products from other manufacturers to provide a full breadth of products for systems that create motion and flow.
Your Redding ParkerStore Team
1250 Redwood Blvd
Redding, CA 96003
Redding Branch Manager - Jason Mcalpin
Store Sales - Kyle Stevens
Store Sales -Jason Pearson
Territory Manager - Trisha Gomez
MFCP Services
Our Redding ParkerStore, like our other ParkerStores, specializes in providing hydraulic connectors and related parts in a retail environment. In addition, we are your first point of contact for many services offered through our other stores and facilities.
We invest in state-of-the-art equipment, but even more importantly, we invest in our people, so they are the best experts in the industry. That is how we ensure that we can help you solve any hydraulic or pneumatic challenge.
Hose Assemblies While You Wait

Our ParkerStores have parts on hand to fabricate replacement hydraulic and pneumatic hose assemblies on the spot.

Vendor Managed Inventory

Heavy users of our products benefit from our VMI program. Let our specialists visit your place of business, take inventory of your parts, and suggest a list of parts to purchase based on your usage.

If you crimp your own hose assemblies, take advantage of our crimper lease program. We provide the equipment and training for your use, as long as you need it to fabricate hose assemblies.
(A minimum annual purchase level is required.)

Hose Assembly Kitting

We can kit your hose assemblies and/or other components per your requirements.




OEM Sub-Assemblies

We can pre-assemble hydraulic and pneumatic valves and other components to make your own assembly process more efficient.
MFCP Systems
Unique Solutions to Industry Problems
If you have read this far, we hope you feel confident that we have the chops to do the job for you, but visit our Modesto ParkerStore soon so we can prove it to you.
Published
Mon, Jan 09, 2023 @ 11:40 AM